Be Like Junior Program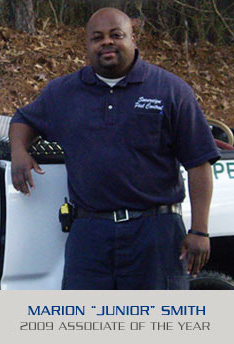 Be Like Junior Program began when Marion "Junior" Smith was voted the 2009 Associate of The Year because of his dedication to customer service. Over 300 customers contacted our customer service department in 2009 to compliment Junior and request him as their service technician. This is a company record! Junior has set a high standard for himself and our associates.
We started the Be Like Junior Program in 2009 in an effort to encourage all of our associates to develop customer loyalty similar to Junior, while his record as a benchmark. As part of this program, we train and coach our technicians and customer service reps to provide the same friendly and professional service as Junior. We also actively track all customer feedback on the performance of our associates.
Each year we recognize one of our associates with the Southern and Sovereign Pest Control Associate of the Year Award. The Be Like Junior Program recognizes an outstanding associate who has made a positive contribution to our company.
We want your feedback. Please visit our Customer Stories page and complete our feedback form. Tell us about your own customer service story.
Be Like Junior Video