Silver Spring Pest Control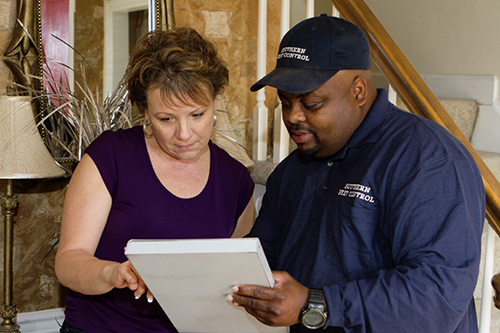 Silver Spring pest control exterminators at Southern are dedicated to providing professional exterminating services for residences throughout Silver Spring, MD and surrounding areas. We have the certified highly trained pest control experts to handle any pest issue. If you suspect an infestation of Spiders, Ants, Mice, Roaches, Fleas, Mosquitoes, Termites or any other household pests, Southern's Silver Spring pest control exterminators will provide a unique custom treatment plan that will fit your needs and safeguard your property. Our pest control exterminators strive to deliver, for your convenience, Exact Time appointments, friendly customer service and lasting treatment results for every home we protect.
In addition to serving the Silver Spring area, we are happy to extend our services to the homeowners of Anne Arundel County, Baltimore County, Calvert County, Howard County, Montgomery County and Prince George's County. In summary, we provide quick, no-obligation quotes at no cost. Talk to a Southern Pest Control Specialist today, and learn more about our pest control and exterminating services that include a 100% money back guarantee.
Proactive versus Reactive
As a matter of fact, the best time to prevent pests from entering your home is before they invade. Otherwise, you could end up with an undesirable infestation. Remember, it's not the one bug you see but the hundreds you don't.
To point out some of Southern's most popular Silver Spring Pest Control exterminating Specialty Services:
Ants
Spiders
Roaches
Termites
Silver Fish
Stink Bugs
Mosquito Control
Pet Lovers: Flea, Tick, and Fire Ant
Bee, Wasp and Hornet Nest Removal
Additionally, discounts are available on Specialty Service options for Silver Spring Pest Control homeowners.
In addition, refer your friends, family and neighbors and save on your service. Ask about the $50 discount off yearly service for each referral that becomes a service plan customer. As a matter of fact, all you have to do is submit the information on the referral form.
For Your Convenience, We Schedule Exact Time Appointments
Southern Pest Control does not believe in multi-hour appointment windows. Therefore, all appointments are scheduled on the hour. Coupled with respect for our customers' time, and equally important, we want to make it easy and convenient to schedule service. At the same time, Southern Pest Control utilizes a customized software system along with GPS tracking for appointment routing, scheduling, and tracking. The objective of this system is to ensure on time appointments between our technicians and customers.
8403 Colesville Road, Suite 1100
Silver Spring, MD 20910
Phone: 301-408-7526
Hours of Operation
MON
8:00 AM
8:00 PM
TUE
8:00 AM
8:00 PM
WED
8:00 AM
8:00 PM
THU
8:00 AM
8:00 PM
FRI
8:00 AM
8:00 PM
SAT
8:00 AM
6:00 PM
SUN
Closed
Closed
Service Areas – Silver Spring Pest Control and Exterminating
Annapolis | Anne Arundel | Bowie | Calvert | Chevy Chase | Columbia | Ellicott City | Frederick
Gaithersburg | Germantown | Glen Burnie | Hyattsville | Laurel | Montgomery | Olney
Pasadena | Potomac | Prince George's | Rockville | Severna Park
Silver Spring | Towson | Upper Marlboro | Waldorf
*Service is NOT provided in Baltimore City

Contact information regarding our offices in Georgia, Tennessee and Texas click here.