Virginia Beach North Pest Control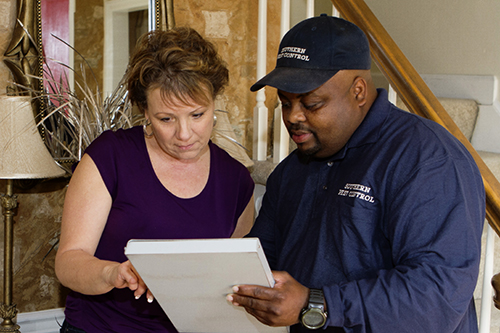 Southern's Virginia Beach Pest Control exterminators provide premium residential extermination services to the entire Virginia Beach, Virginia area. Our highly trained, certified and professional exterminators set us apart as Virginia Beach's most reliable solution for your pest control issues. Our Virginia Beach pest control exterminators have earned a reputation for their punctuality, friendly customer service and excellent treatment results. Southern Pest Control offers a Dedicated Dispatch, GPS and Routing System and, for your convenience, we schedule Exact Time appointments to enhance our Virginia Beach area customers' experiences. In addition, we have extended our service areas to include homeowners residing in the Greater Hampton Roads, Virginia Beach, Chesapeake, Portsmouth, Suffolk, & Norfolk. For those homeowners in the Newport News/Hampton area, please visit our Newport News location page.
Some of Southern's Virginia Beach Pest Control most popular services include Mosquito Control, Pet Lovers: Flea, Tick, and Fire Ant, Flies, Bee, Wasp and Hornet Nest Removal, Roaches, Ants, Silver Fish, Spiders, and other household pests.
Don't forget to check out our discounts on Specialty Service Options. Be sure to visit our Promotions page.
Whether you have an active infestation, or if you just want peace of mind that your home, family and pets are protected, call today to speak with of our Virginia Beach Pest Control specialists for a quick, no-obligation quote at no cost and learn more about our pest control exterminating services that include a 100% money back guarantee. Ask about the $50 discount off yearly service for every referral that becomes a service plan customer. Refer your friends, family and neighbors and save on your service. All you have to do is submit the information on the referral form. If your friend purchases a service plan, Southern Pest Control will give you a $50 discount off your annual service plan.

397 Little Neck Rd, 3300 South Bldg Suite 203
Virginia Beach, VA 23452
Phone: 757-468-9512

Hours of Operation
MON
8:00am
8:00pm

TUE
8:00am
8:00pm

WED
8:00am
8:00pm

THU
8:00am
8:00pm

FRI
8:00am
8:00pm

SAT
8:00am
6:00pm

SUN
Closed
Closed
Service Areas – Virginia Beach Pest Control and Exterminating
Alanton | Chesapeake | Chic's Beach | Deep Creek | Great Bridge | Greater Hampton Roads
Greenbrier | Indian River | Norfolk | Ocean View | Pleasant Grove | Portsmouth
Pungo | Sandbridge | Suffolk | Virginia Beach

Contact information regarding our offices in Georgia, Tennessee and Texas click here.