Virginia Beach Pest Control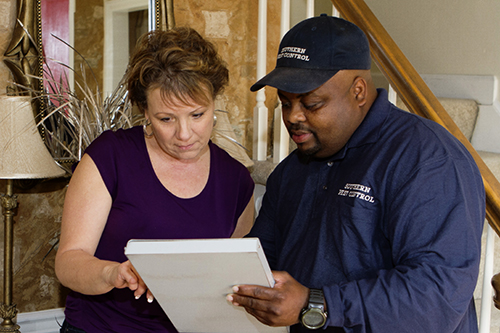 Southern's Virginia Beach Pest Control exterminators are committed and dedicated to providing premium pest management services for homeowners. A home should be a safe haven and we have the certified highly trained experts to handle any pest issue. Do you suspect an infestation of spiders, ants, mice, roaches, fleas, mosquitoes, termites or any other household pests? Our pest control technicians will provide a unique custom treatment plan that will fit your needs, safeguard your property and allow you peace of mind. Above all, we strive to deliver friendly customer service, lasting treatment results for every home we protect and, for your convenience, we schedule Exact Time appointments.
In addition, we have extended our service areas to include homeowners residing in the Greater Hampton Roads, Virginia Beach, Chesapeake, Portsmouth, Suffolk, & Norfolk. For those homeowners in the Newport News and Hampton area, please visit our Newport News location page.
Don't forget to check out Southern Pest Control's discounts on Specialty Service Options. In conclusion, be sure to visit our Promotions page.
Specialty Services
Flies
Stink Bugs
Mosquitoes
Pantry Pests
Cicada Killers
Box Elder Bugs
Wasp and Bee Nest Removal
Fire Ants, Fleas & Ticks Pet Service
Above all, we provide quick, no-obligation quotes at no cost. Talk to a Virginia Beach Pest Control specialist today. Ask about our pest control and exterminating services that include a 100% money back guarantee. Ask about the $50 discount off yearly service for every referral. All you have to do is submit the information on the referral form. If your friend becomes a service plan customer, Southern Pest Control will give you a $50 discount off your annual service.
LOCATIONS

397 Little Neck Rd, 3300 South Bldg Suite 203
Virginia Beach, VA 23452
Phone: 757-468-9512

Hours of Operation
MON
8:00 AM
8:00 PM
TUE
8:00 AM
8:00 PM
WED
8:00 AM
8:00 PM
THU
8:00 AM
8:00 PM
FRI
8:00 AM
8:00 PM
SAT
8:00 AM
6:00 PM
SUN
Closed
Closed
Service Areas – Virginia Beach Pest Control and Exterminating
Alanton | Chesapeake | Chic's Beach | Deep Creek | Great Bridge | Greater Hampton Roads
Greenbrier | Indian River | Norfolk | Ocean View | Pleasant Grove | Portsmouth
Pungo | Sandbridge | Suffolk | Virginia Beach

Contact information regarding our offices in Georgia, Tennessee and Texas click here.