Promotions
Southern Pest Control offers various promotions and coupons. Be sure to check back often for future promotions, coupons and discounts. Call today for current pest control prices.
5 Mosquito Services in 2021 for as low as $200 when clients schedule through the Customer Service Online Scheduling System
Tired of those pesky mosquitoes? Southern Pest Control is proud to help homeowners reclaim their backyards. Login or call now and receive (5) mosquito treatments for $250.
You may purchase (5) individual services for the low price of $250. These (5) services may be scheduled anytime during 2021. The special price of $50 per service is 60 percent off the current customers' regular price. This offer is for a limited time only. Receive an additional $50 off the 2021 Mosquito Service Special when you purchase a Signature Service Plan. Please login into our customer service system (click here) or call us today to take advantage of this great deal. This offer expires on January 29, 2021 at 7pm EST.
We appreciate the opportunity to service your home and we look forward to hearing from you. Happy New Year from Southern Pest Control.
*For the best price, avoid $25 surcharge by scheduling via our Online Customer Service System (click here).
MORE INFO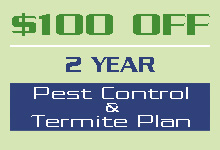 Need a quote? Fill out our online Request A Quote form and receive a call back within 15 minutes with an instant quote!
Call now for current pest control pricing 1-800-627-0577.
Introductory Offer: $100 coupon on a 2 year Termite and Pest Control Service Plan
MORE INFO
Purchase Five Specialty Services and receive the Sixth service FREE. May not be combined with other offers or coupons.
MORE INFO
Southern Pest Control offers a Double-Sided Escalating Referral Program that will reward $50 to $250 for those who refer a friend, neighbor, family member, acquaintance or client that becomes a Pest Control or a Pet Lovers' Service Plan client. In addition, the homeowner you refer will receive a $25 discount on the purchase of the Pest Control or a Pet Lovers' Service Plan.
Simply call today to speak with a SPC representative (800) 627-0577.
MORE INFO