Referral Program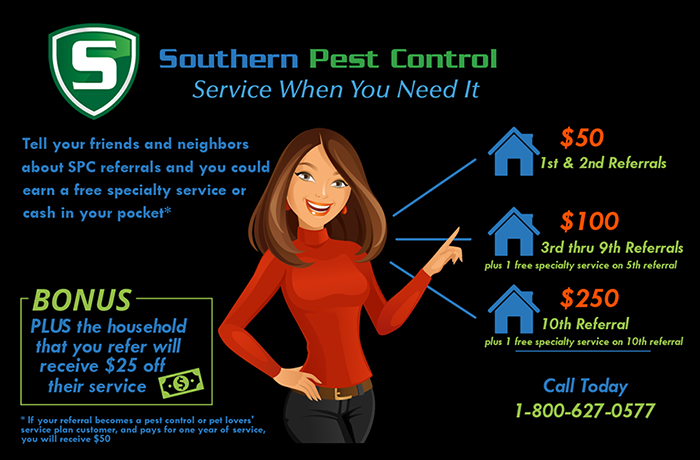 Simply complete the online referral form below or call (800) 627-0577
A referral program that benefits both the referrer and the referred
Southern Pest Control offers a Double-Sided Escalating Referral Program that will reward $50 to $250 for those who refer a friend, neighbor, family member, acquaintance or client that becomes a Pest Control or a Pet Lovers' Service Plan client. In addition, the homeowner you refer will receive a $25 discount on the purchase of the Pest Control or a Pet Lovers' Service Plan.
As a Bonus, receive a free specialty service on the 5th and 10th referral
Specialty Services include (Mosquitoes, Fly Prevention, Bee, Hornet & Wasp Removal, Stink Bugs, Pantry Pest, Box Elder Bugs, Cicada Killers, Fire Ant Service, Outdoor Party Service, Yard Service & Pet Lovers Service).
Referral Program Terms and Conditions
Person being referred must be a new customer
There is no limit to the amount of referrals and rewards
To be eligible for $100, 3rd referral must be submitted within 365 days of 1st referral
Referral info must be submitted prior to service being performed or client purchasing Pest Control or a Pet Lovers' Service Plan
Referral Program Video
Contact us, we'd like to hear from you.
Contact information regarding our offices in Georgia, Tennessee and Texas click here.