Client Referral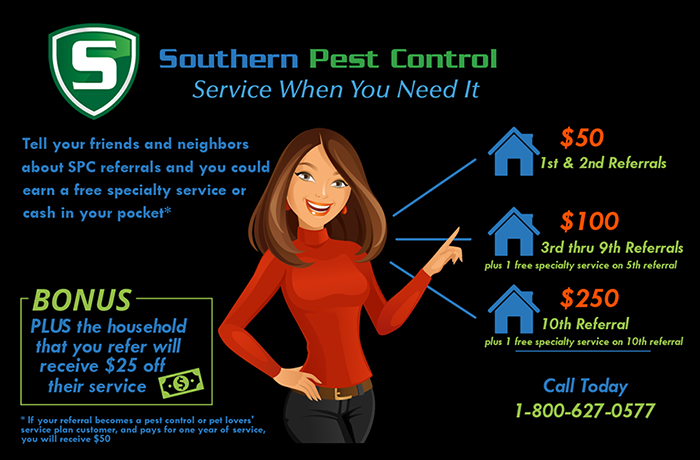 Simply complete the online referral form below or call (800) 627-0577
A referral program that benefits both the referrer and the referred
Southern Pest Control offers a Double-Sided Escalating Referral Program that will reward $50 to $250 for those who refer a friend, neighbor, family member, acquaintance or client that becomes a Pest Control or a Pet Lovers' Service Plan client. In addition, the homeowner you refer will receive a $25 discount on the purchase of the Pest Control or a Pet Lovers' Service Plan.
As a Bonus, receive a free specialty service on the 5th and 10th referral
Specialty Services include (Mosquitoes, Fly Prevention, Bee, Hornet & Wasp Removal, Stink Bugs, Pantry Pest, Box Elder Bugs, Cicada Killers, Fire Ant Service, Outdoor Party Service, Yard Service & Pet Lovers Service).
"I have referred at least 50 clients to Southern Pest Control. Their customer service is excellent and I highly recommend their company," says Randy Tappen with Wainwright Real Estate.
Southern Pest Control has a client referral program that is a great opportunity for any professional who has a business relationship with homeowners. The Refer-A-Client program allows individuals who have homeowner clients to refer their clients to Southern Pest Control in return for a $50 referral fee. We encourage professionals such as Real Estate Agents, Loan Officers and Home Inspectors to take advantage of this program. The Refer-A-Client program is also a great opportunity for owners, managers, and employees of any type of home service business.
Contact us, we'd like to hear from you.
Contact information regarding our offices in Georgia, Tennessee and Texas click here.