Client Referral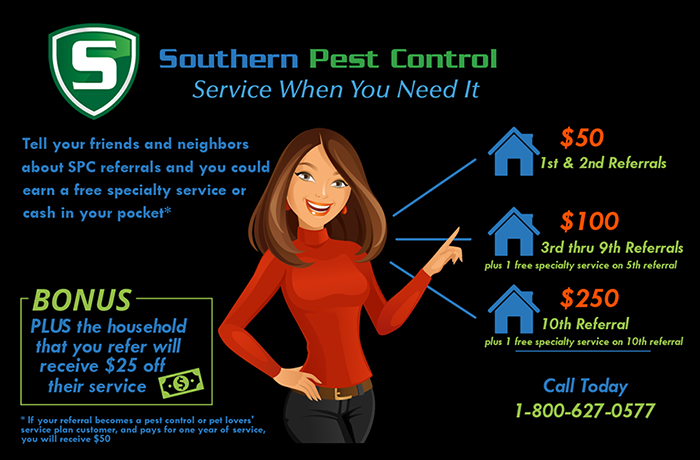 Simply complete the online client referral form below or call (800) 627-0577
Benefits Both the Referrer and the Referred

Southern Pest Control offers a Double-Sided Escalating Referral Program that will reward $50 to $250 for those who refer a friend, neighbor, family member, acquaintance or client that becomes a Pest Control or a Pet Lovers' Service Plan client. In addition, the homeowner you refer will receive a $25 discount on the purchase of the Pest Control or a Pet Lovers' Service Plan.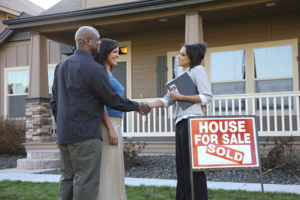 Real Estate Agents, Loan Officers, Home Inspectors and Property Managers have been referring Southern Pest Control for decades. We encourage professionals such as Landscapers, Gutter Cleaners, Carpenters, Remodels, Waterproofing and Foundation Companies to take advantage of this program.
Reward Your Clients while Rewarding Yourself
With the Southern Pest Control Refer A Client program, you can earn money or get huge savings on your service. So, start spreading the news. Tell your clients about all of the benefits:
Effective quality products
No interest installment plans
Wide range of specialty services
The most affordable service plans in the industry
On the hour appointments, no window appointments ever
Save additional $25 discount on Pest Control plan or Pet Lovers plan
Become a Referring Partner

Great earning potential when you become a Referring Partner. On your 10th referral you will earn $250 for each referral that becomes a pest control client with Southern Pest Control. Easily earn over $1,000 per week by continuing to refer your clients and business associates.
Do you like to network?
Do you have a large following on social media, or meet and greet with many homeowners or property managers? This could be the perfect way to be your own boss and have unlimited earning potential.
FAQ – Client Referral

Referral Program Video
Contact information regarding our offices in Georgia, Tennessee and Texas click here.