Promotions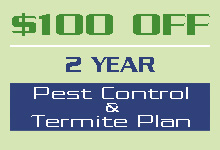 Need a quote? Fill out our online Request A Quote form and receive a call back within 15 minutes with an instant quote!
Introductory Offer: Save $100.00 on a 2 year Termite and Pest Control Service Plan
Call Now for Details 1-800-627-0577
MORE INFO
Yard-Mosquito Control Treatment $129

Keep your yard and outside of your home free from bugs during the summer of 2018 with a Southern Pest Control yard-mosquito treatment. This valuable service will protect your yard and outside of your home against 85 annoying pests including ants, spiders, fleas, ticks, and mosquitoes. This offer expires on July 31st, 2018 so call today.
Don't forget to check out our Specialty Services (Mosquitoes, Yard Service, Fly Prevention, Bee, Hornet & Wasp Removal, Stink Bugs, Pantry Pest, Box Elder Bugs, Cicada Killers, Fire Ant Service, Outdoor Party Service & Pet Lovers Service).
MORE INFO
Purchase Five Specialty Services and receive the Sixth service FREE. May not be combined with other offers.
MORE INFO
Southern Pest Control offers a Double-Sided Escalating Referral Program that will reward $50 to $250 for those who refer a friend, neighbor, family member, acquaintance or client that becomes a Pest Control or a Pet Lovers' Service Plan client. In addition, the homeowner you refer will receive a $25 discount on the purchase of the Pest Control or a Pet Lovers' Service Plan.
Simply call today to speak with a SPC representative (800) 627-0577.
MORE INFO