Promotions
Southern Pest Control offers various promotions and coupons. Be sure to check back often for future promotions, coupons and discounts. Call today for current pest control prices.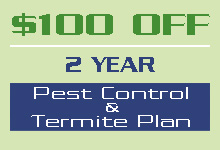 Need a quote? Fill out our online Request A Quote form and receive a call back within 15 minutes with an instant quote!
Call now for current pest control pricing 1-800-627-0577.
Purchase Five Specialty Services and receive the Sixth service FREE. May not be combined with other offers or coupons.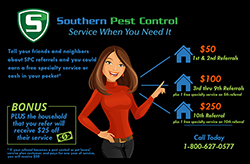 Southern Pest Control offers a Double-Sided Escalating Referral Program that will reward $50 to $250 for those who refer a friend, neighbor, family member, acquaintance or client that becomes a Pest Control or a Pet Lovers' Service Plan client. In addition, the homeowner you refer will receive a $25 discount on the purchase of the Pest Control or a Pet Lovers' Service Plan.
Simply call today to speak with a SPC representative (800) 627-0577.