Promotions
Southern Pest Control offers various promotions and coupons. Be sure to check back often for future promotions, coupons and discounts. Call today for current pest control prices.
Save $200 on our 2 Year Pest Control Service Plan
Offer expires April 30th 2022
Southern Pest Control Service provides proven and effective measures to protect your home from unwanted invaders. Covered pests include ants, carpenter ants, roaches, spiders, crickets, camel crickets, mole crickets, centipedes, millipedes, scorpions, silverfish, clover mites, earwigs, mice and rats. Southern Pest Control offers a comprehensive Pest Control Service Plan that is the most affordable on the market today, and is backed with a 100% Money Back Guarantee!
Be prepared for Spring and prevent those unwanted guests from invading your home. There is no better time so act now!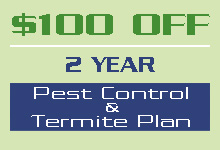 Need a quote? Fill out our online Request A Quote form and receive a call back within 15 minutes with an instant quote!
Call now for current pest control pricing 1-800-627-0577.
Purchase Five Specialty Services and receive the Sixth service FREE. May not be combined with other offers or coupons.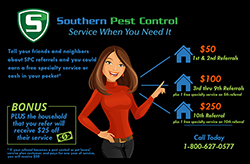 Southern Pest Control offers a Double-Sided Escalating Referral Program that will reward $50 to $250 for those who refer a friend, neighbor, family member, acquaintance or client that becomes a Pest Control or a Pet Lovers' Service Plan client. In addition, the homeowner you refer will receive a $25 discount on the purchase of the Pest Control or a Pet Lovers' Service Plan.
Simply call today to speak with a SPC representative (800) 627-0577.