Richmond Pest Control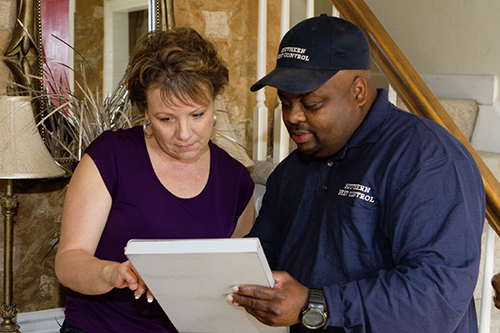 Our Richmond Pest Control exterminators are committed to offering homeowners highly effective pest management and exterminating services. Our trained and certified licensed Richmond Pest Control exterminators will determine and provide homeowners a customized treatment plan for identified infestations of Termites, Ants, Carpenter Ants, Earwigs, Roaches, Spiders, Crickets, Millipedes, Centipedes, Rats, Mice, Pill Bugs and Silverfish. Once an infestation is discovered, our Richmond Pest Control Technicians will utilize the most advanced, family and pet friendly products available to protect your investment.
Utilizing technology to enhance our Richmond area customers' experiences has set us apart from our competition. In addition to superior customer service, Southern's Richmond Pest Control exterminators offer the Richmond area a Dedicated Dispatch, GPS and Routing System and, for your convenience, we schedule Exact Time appointments.
Southern Pest Control also offers pest management and exterminating services to homeowners residing in Amelia County, Chesterfield County, Goochland County, Hanover County, Henrico County, Powhatan County, Prince George County, City of Petersburg and City of Richmond.
Don't forget to check out our discounts on Specialty Service Options. Be sure to visit our Promotions page.
Specialty Services include:
Flies
Stink Bugs
Mosquitoes
Pantry Pests
Cicada Killers
Box Elder Bugs
Wasp and Bee Nest Removal
Fire Ants, Fleas & Ticks Pet Service
If you're looking for a Richmond Pest Control Exterminator you can rely on, contact Southern Pest Control today for a quick, no-obligation quote at no cost. All of our pest control, Termite, Flea and Tick service plans come with a 100% money back guarantee. Ask about the $50 discount off yearly service for every referral that becomes a service plan customer. Refer your friends, family and neighbors and save on your service. All you have to do is submit the information on the referral form.
14021 Steeplestone Drive
Midlothian, VA 23113
Phone: 804-897-7744
Hours of Operation
MON
8:00 AM
8:00 PM
TUE
8:00 AM
8:00 PM
WED
8:00 AM
8:00 PM
THU
8:00 AM
8:00 PM
FRI
8:00 AM
8:00 PM
SAT
8:00 AM
6:00 PM
SUN
Closed
Closed
Service Areas – Richmond Pest Control and Exterminating
Amelia | Ashland | Bon Air | Chester | Chesterfield | Colonial Heights | Crozier | Glen Allen
Goochland | Hanover | Henrico | Highland Springs | Manakin Sabot | Matoaca
Mechanicsville | Midlothian |   Montpelier | Moseley | New Kent | Petersburg
Powhatan | Prince George | Richmond | Rockville | Sandston

Contact information regarding our offices in Georgia, Tennessee and Texas click here.